Yeah. Life has been too awesome to blog about (if by "awesome" you mean "chaotically busy"!), so there I go again, being all quiet on the blogging front.
Day 26 - Thursday
Got a heap done at work, which was awesome.
And then I went home and made a pretty awesome Thai beef salad, which was made all the more awesome by the company I shared it with. Yep, things are going pretty well with the guy I've been seeing. We've actually cooked one another dinner, and nobody has died of food poisoning, so that's promising!
After that came something that was simultaneously awesome and not awesome at all - I decorated a snowboarding-themed cake for my workmate's daughter's 30th birthday. And despite the fact I was up until 1:30am for the second night in a row decorating it, it turned out pretty well. The being up was the un-awesome bit.
Here's the mountain (it's hard to see, but it's sculpted into a ramp, and iced with cream cheese frosting, with a sprinkling of edible glitter on it to make it more ice-like):
Here are the rocks (which I CBF rotating because I'm doing this with my phone, but you get the idea. I was also told by someone that studied geology that they're good rocks, so I'm pleased by that!):
And here is the snowboarder:
Zoom in a bit and you''ll see that she even has a little nose, and tiny little ears, and properly cut hair! She vaguely resembles the birthday girl, clothing and all (apparently):
Unfortunately I didn't get a chance to take a picture of it assembled myself, but here is a very blurry one that somebody took on the night:
Note that I didn't do the piping, but it was my suggestion to pipe it in yellow (as in, "don't eat the yellow snow"). Yeah, I'm a bit twisted like that!
Day 27 - Friday
Most of Friday was a bit meh, although I got on a roll after lunch and ended up doing a bunch of stuff I had hitherto neglected to do, in a very efficient manner, and that felt pretty awesome. Awesome enough to overstay my intended finish time by an hour and a half, and be the poor sucker that had to lock up the site compound in the dark. No matter, I got the stuff done, and it felt amaaaaaaaazing.
And then I had to hightail it up to Trentham for a hen's weekend. It was dark and foggy and pouring with rain for much of the drive up there, which was not so fun. But it was awesome seeing everyone, and playing Hot Lasagne (a word game... yeah, I know, we're a pack of geeks... and it gets worse...), and hearing the Hen's mother say the phrase "c*ck s**ker". She also told a joke involving the c-word, which was pretty awesome (even though I hate the word with a fiery, fiery passion), so she was pretty amusing to have around. I probably would have lost my bundle if she'd gotten that phrase in the miming round, though...
Day 28 - Saturday
Most of the hen's festivities took place on Saturday. We had a bit of a sleep in, attempted to become motivated and went to a farmer's market in Trentham. I ended up buying some pretty awesome chocolate truffles, and a mixed six-pack of craft beer as a thank-you gift for the guy I've been seeing in anticipation of something nice he was doing for me the following day.
And you know what? I'm totally going to give him a name, because writing "the guy I've been seeing" is becoming kind of tedious. He will hitherto be referred to as The Kiwi. Yes, yes, I've been dating a Kiwi. Go on, laugh it out. But hey, he's pretty awesome. You know, for a Kiwi! (for those not from Australia or New Zealand, there is a friendly rivalry between the two nations. We like to pick on each other and make inappropriate jokes about the others' unnatural affection towards sheep, amongst other things, so don't think for a second that I'm being genuinely mean!)
Anyway, back on track - after the market a few of us went back to the house while the Hen went to a day spa, and my friend Em and I prepared dinner (by which I mean, cut up a bunch of food and dumped it in a slow-cooker). I love how well Em and I work around each other in a kitchen, and it made an otherwise potentially-tedious experience pretty awesome. Spoiler: dinner was also awesome. Damn, we're good. A few people also contributed to this hen-themed cake (mainly Viv and Sal). I covered the eggs in fondant:
After that we headed to Daylesford for a late lunch, which was pulled pork and coleslaw on toasted brioche. The fact it took us about 20 minutes to have our order taken was less than awesome, but the amazing food made it all worthwhile.
The evening's festivities involved learning to crochet (yes, really, and yes, I do think that's awesome because I have always wanted to learn!); having a cocktail party wearing onesies/PJs (yes, really); and headbanging to Queen at 2am (yes, really. I even have a pulled muscle in my neck to prove it!). Altogether a pretty awesome evening. I mean, come on, twelve drunk girls in onesies singing to Queen - how can you possibly go wrong?!! ;-)
Day 29 - Sunday
Sunday was always going to be a little bit less than awesome, on account of the fact that I was driving up to Bendigo to see my dad in the acute mental health ward up there. I think I have mentioned that he has some mental health issues, and that he went back into hospital last Saturday for treatment.
But the Kiwi definitely made it a bit more awesome than it otherwise would have been.
First, I picked him up from a local train station and we drove up the stretch of highway that I built (single-handedly, of course... er, okay, not so much, although I did personally manage the construction of the overhead wildlife crossings!) and I told him all about it, and he pretended (or maybe actually was??) to be interested in it. I love driving that stretch of road and remeniscing about the awesome time I had on my first major project.
Got to Bendigo, decided to stop at the Beechworth bakery and introduce The Kiwi to their famous
Ned Kelly pie
- always an awesome choice - and then dropped him off to explore Bendigo whilst I visited the hospital. Of course, I promptly discovered that the visiting hours didn't start for another hour, so I went back into town and met him. We wandered around the local gardens and saw some bats, which was pretty awesome (in a stinky kind of way):
And then we found this awesome second-hand bookshop, where I found two books from my very favourite series from childhood, in really good condition, more than 50 years old. That was pretty awesome.
Back to the hospital, and it was awesome seeing dad, even if he is nuttier than a fruitcake. He gave me the most wonderful, warm hug, and then took me to do jigsaw puzzles, which I love, so that was awesome. We sat there and chatted and did puzzles and talked to other patients that approached (= pretty much all of them), all whilst screening out chaos around me. Special mention goes to the guy who was screaming profanities at the nurses in the hallway, and to the other guy who was doing that classic maniac-style laugh you hear in movies and kind of hustling a pole, as if it had a soccer ball and he was trying to retrieve it. Psych wards are always interesting places, although mostly they're just very sad to visit. Not just because you see your own loved ones in an altered mental state, which is difficult to see, but also because, when I visit, I am invariably mobbed by patients I have never met before. Sometimes they'll even hug you, so it's just as well I'm okay with being touched by strangers. It is abundantly apparent that they don't have much of a support network themselves, and that they receive very few visitors. It must get quite lonely in there.
So, like I said, I anticipated a less-than-awesome day visiting dad... and it wasn't as horrible as it could have been. I guess I did most of my crying over him being so ill when he was in hospital the other week.
And it definitely helped that The Kiwi was there to pep me up and distract me a bit afterwards. We drove home via a couple of wineries, including
Bress
, which run a biodynamic operation nowadays. I thought the fact they use guineafowl to control insects was pretty awesome, and is the sort of thing that is right up my alley. The Kiwi must have felt a bit sorry for me, because he agreed to drive so that I could make the most of the tastings and get drunkity-drunk-drunk. Hehe. Bless.
We also stopped by The Cascades in Metcalfe on the way home, and the fact it had been raining all weekend made for a pretty cool display. I used to have to test water quality here when I was working on a nearby construction job, and it was awesome being able to revisit it and act as a tourguide for such a pretty, secret spot. Yep, my job definitely has its perks!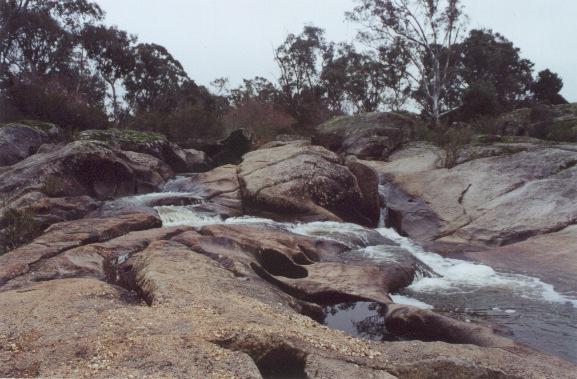 (no photos taken, so I borrowed it from
here
)
Once home, I made some profiteroles for Tuesday's cake decorating class, and, even though they're not exactly round, they still turned out more or less awesomely. They appear to be cooked properly, anyhow!
Lucky last, I picked up a guitar for the first time in about six months, which was awesome, and taught The Kiwi a few chords. He's had this pretty amazing guitar for years, and it was played more in the half an hour I had it out than it has in its entire life. Poor, lonely guitar :-(
Day 30 - Monday
Again with the getting stuff done at work! Feeling pretty good about that. I even solved a potentially massive dilly of a pickle we were about to encounter.
And then, of course, there was my weekly yoga class, which is invariably awesome.
So... sorry I've been gone so long, and I can't promise I'll do much better moving forward... but tell me, what have I missed? What has been awesome about your last few days?